He was looking for the city…
August 6, 2018
Remain steadfast!
Steadfast is from the Portrait Collection. To see the card in its Collection, please click here.

He was looking for the city…
"By faith Abraham, when he was called, obeyed by going out to a place which he was to receive for an inheritance; and he went out, not knowing where he was going. By faith he lived as an alien in the land of promise as in a foreign land, dwelling in tents with Isaac and Jacob, fellow heirs of the same promise for He was looking for the city that has foundations whose architect and builder is God." (Hebrews 11:8-10)
"All these died in faith without receiving the promise, but having seen and welcomed them from a distance, they confessed that they were strangers and exiles (Greek – a resident foreigner). (Hebrews 11:13)
"They desired a better country, a heavenly one. Therefore, God is not ashamed to be called their God for He has prepared a city for them." (Hebrews 11:16)   Jesus said, "And if I go to prepare a place for you, I will come again and receive you to myself that where I am, there you may be also." (John 14:3)
God's presence is our home! Although we are fully in His presence as His children through Jesus, we will experience the fullness of this reality in this place Jesus has prepared for us! Our faces are steadfastly fixed on that place where we completely belong – the place we were made for. (1 John 3:3; 2 Thessalonians 4:16-18)
Decades ago I heard a Presbyterian renewal pastor say that, just at babies are being formed in their mother's womb with eyelashes, ears, noses and little parts that they will not be able to use until they are born into the world, we also are being formed and molded for another place… that place, that city… all the while we help each other along the way.
Finally, I'd like to share a poem by Evangeline Paterson (1928-2000, from Ireland) given to me many years ago, called Exile:
Yes, it is beautiful country,
The stream in the winding valley,
The knolls and the birches,
And beautiful the mountain's bare shoulder
And the calm brows of the hills;

But it is not my country,
And in my heart there is a hollow place always.
And there is no way to go back.
Maybe indeed the miles, but the years never.
Winding are the roads that we choose,
And inexorable is life, driving us like cattle
Farther and farther away from what we remember.
But when we shall come at last to God,
Who is our Home and our Country,
There will be no more road stretching before us
And no more need to go back.

Thankful every day for our hope in Him!
Blessings and love,
Beth Ann
If you would like to read the origin of the Steadfast card, please continue reading below. To see the card in its Collection, please click here.
The Steadfast portrait was drawn with a 6B, soft-lead pencil in 1976 at a student center at Miami University in Oxford, Ohio. I cannot remember where I met Dwight, but I think it was in drawing class. We agreed to meet at the student center so that I could draw his face from life.
Back then, I never liked to draw portraits from photographs, but only when the person was sitting right in front of me, so I could capture the depth and proportions of the lines in their features, pressing lightly or firmly on the lead pencil to achieve variations in texture. I remember drawing several views of Dwight.
After Flower Girl Greetings was born, I reconsidered his expression as Steadfast and added the verses. I used a computer font rather than calligraphy, so the words wouldn't interfere with the art. "My heart is steadfast, O God, my heart is steadfast. I will sing and give you praise!" (Psalm 57:7) Psalm 130:5-6 is also on the front of the card. This card is great to send for a man's birthday or achievement. I've also sent it to women, and received many testimonials of women sending it to their sons.
Blessings,
Beth Ann
Our mission at Flower Girl Greetings is to magnify the beauty of God's Word and make it easy for you to share powerful encouragement in a tangible and lasting way!
Spring rains
August 1, 2018
Be patient in hope. He will come!
Springs rains is from the Thy Faithfulness Collection. To see the card in its Collection, please click here.
Let us know, let us press on to know the Lord; His going forth is sure as the dawn, He will come to us as the showers, as the spring rains that water the earth. (Hosea 6:3)
Do you know someone who needs to be encouraged that God will come? I would like to share the words of a little hymn that have so shaped my life:
Not so in haste my heart!
Have faith in God, and wait;
Although He linger long,
He never comes too late.
He never cometh late;
He knoweth what is best;
Vex not thyself in vain;
Until He cometh, rest.
Until He cometh, rest,
Nor grudge the hours that roll;
The feet that wait for God
Are soonest at the goal.
Are soonest at the goal
That is not gained with speed;
Then hold thee still, my heart,
For I shall wait His lead.
(words by Bradford Torrey, 1875 to an Austrian melody)
If you would like to read the origin of the Springs rains card, please continue reading below.
Blessings and love,
Beth Ann
The Spring rains story:
In April 1980 after I received Jesus and was born again, I returned from Chagrin Falls, Ohio to Dayton, Ohio and worked at Wright Patterson Air Force Base for two years as an Illustrator. If work was slow, I was instructed to increase in my artistic skills during that time.
Since all I wanted to do was read the Scriptures, I decided to use this time to write Scripture verses in beautiful ways. I knew nothing about calligraphy or the special pens needed to execute various styles, so I created the letters by hand with different tools. Computers were not an option in 1980.
Spring rains was painstakingly created by hand with an ellipse template, a ruler, and a black ruling pen. Later I took the art and printed it on a green printer on small cards. I have a picture of this from an old scrapbook…
As I drew the letters, I referenced an old book from 1965 that contained letters called Stunt Roman.  (Speedball Textbook by Ross F. George, Page 34)
After Flower Girl Greetings was born in 2013, I used a special program to make the letters white and then put the letters on top of a watercolor wash that looked like rain coming down onto grass.
Also, I liked this verse so much that I designed and completed a cross-stitch in the late 1980s…
Our mission at Flower Girl Greetings is to magnify the beauty of God's Word and make it easy for you to share powerful encouragement in a tangible and lasting way!
Steeping in the Seeping
7-26-18
Encourage a friend to rest in His love
I am the Vine is from the I AMs of Jesus Collection. To see the card in its Collection, please click here.
Early yesterday morning, I went out to the garden to water, weed and prune for an hour. New weeds are now in season!... Everywhere!
A fruitful garden is accompanied by weeds that come in their season, along with needed pruning and dead-heading (clipping off dead growth to allow for new growth and blossoms). The more consistent I am in attending to the garden invaders and inhibitors, the more the garden flourishes.
We enjoy a delightful, flourishing relationship with the Lord as we allow God's Word (through the work of the Holy Spirit) to keep us weeded and pruned from hurtful ways. Jesus said, "You are already clean because of the word I have spoken to you." (John 15:3). He said this in the context of a vine being pruned (cleaned) to bear more fruit.

As we daily allow His words to fall on us and seep into our spirit, minds, emotions, and bodies… over our circumstances and relationships, and then steep awhile in His words, we remain pruned. Let His words seep and then steep. Just as hot water brings out the essence of the tea leaves, the Holy Spirit brings out the essence of His life in Us – the life He gave us when we were born again.

Sometime last winter, the Lord gave me 3 verses that help keep the weeds at bay.
Psalm 139:23-24 – "Search me, O God, and know my heart. Try me and know my anxious thoughts. And see if there is any hurtful way in me, and lead me in the everlasting way."




Search me, Lord. I want the everlasting, flourishing way. Please show me any attitude or action that needs the application of Your Holy Spirit to cleanse.

Philippians 3:15 in the context of the entire chapter – "Let as many of us as are perfect [fully mature], have this attitude; and if in anything you have a different attitude, God will reveal that also to you."




Heavenly Father, thank you that I can TRUST You to show me wrong attitudes as I receive Your life each day! I don't have to worry about a big mass of ugly weeds growing under the surface, because I trust You to show them to me and to lead me in the everlasting way!

1 John 1:9 – "If we confess our sins, He is faithful and righteous to forgive us our sins and to cleanse us from all unrighteousness."




I praise You, Lord! Because you paid the penalty for my sin, I am free, not only from the penalty of my sin, but from its power! If you show me an anxious or hurtful way in me, I can confess it, and You will immediately cleanse me according to Your promise in 1 John and restore my soul. Give me a humble heart and Your power to completely repent, digging up the weeds by the root, so they don't reappear over and over again… So that I can enjoy delightful fellowship with You and others!
If you would like to read the origin of the I am the Vine card, please continue reading below.
Blessings and love,
Beth Ann
The I AM the Vine Story:
In 1998, my parents commissioned me to calligraphy John 15:5 for their pastor, Reverend Bob Wade, a wonderful, Presbyterian pastor. John 15:5 is his favorite verse.
The original artwork for the I am the Vine card was originally much larger. The artwork was matted and framed and presented to Pastor Wade in August 1998. I found a picture of the framed piece in an old notebook (see below). Bob wanted to be called Bob
. You can see him serving me at a church function.
The form of calligraphy I used for this artwork is called "italic" and is executed with a wedge-shaped pen tip. I painted the illustration of the grapes with gouache, which is an opaque watercolor.
Our mission at Flower Girl Greetings is to magnify the beauty of God's Word and make it easy for you to share powerful encouragement in a tangible and lasting way!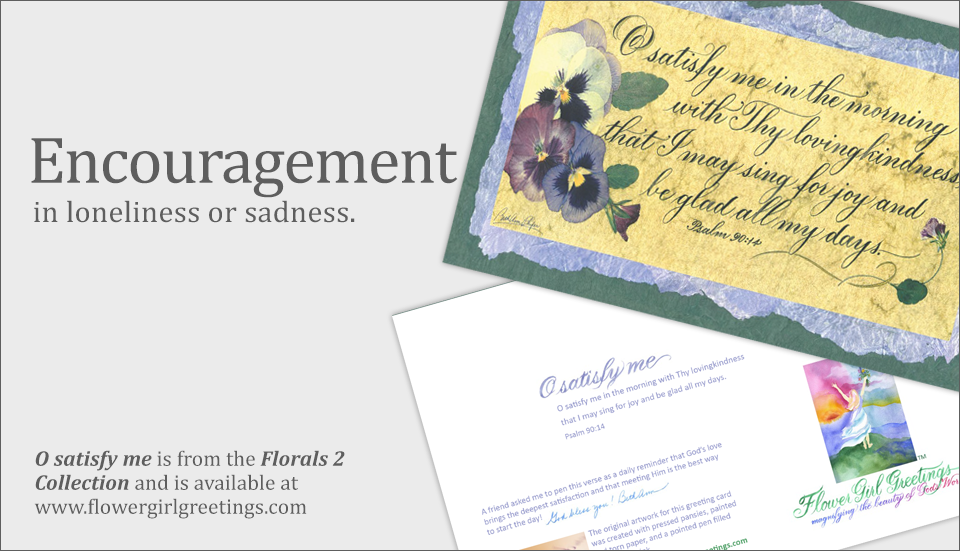 O satisfy me!
7-18-18
Encouragement in loneliness or sadness.
O satisfy me is from the Florals 2 Collection. To see the card in its Collection, please click here.
O satisfy me in the morning with Thy lovingkindness that I may sing for joy and be glad all my days. (Psalm 90:14)

Our culture with its electronic devices and online friends often promotes an arms-length connection that contributes to loneliness and depression. These extremely hot days that keep us inside don't help! But the Psalmist encourages us that God is right there waiting to feed us with His presence. This morning, I read Psalm 84 that also encourages us to dwell in His love.
A few weeks ago I had a vivid dream. A few days later, I realized it was from the Lord. In the dream, a kind person took me out on the water on a circular flat raft. It was very peaceful. When we came on shore, we sat on a pier together and continued to enjoy each other's company. Then, I leaned my back against his arm. He said, "I've been waiting for this." The next three mornings, the first thing I heard in my mind when I awoke was, "I'm waiting for you."
Did you know that the Lord is moved by your eagerness to spend time with Him? He is waiting for you to fellowship with you and to feed you. All that is required is our leaning on Him.
Psalm 81:16 says, "But I would feed you with the finest of wheat and with honey from the rock I would satisfy you." What feeds you and me? What is our diet… the way we spend our time? God's Word always richly feeds. "How lovely are Your dwelling places, O Lord of hosts! My soul longed and even yearned for the courts of the Lord Adonai; my heart and my flesh sing for joy to the living God!" (Psalm 84:1-2
If you would like to read the origin of the O satisfy me card, please continue reading below.
Blessings, love and shalom,
Beth Ann
The O satisfy me story:
In the 1990s, I was in a pansy-pressing frenzy (smile). The artwork from the Florals Collections was created during these years. Also incorporated in the O satisfy me card is the border of paper painted with metallic ink and then torn.
My good friend De had asked me to script this verse (Psalm 90:14) for her to place on her wall right next to the area where she read God's Word each day. She wanted to be reminded of God's desire to meet her with His love and joy.
The elegant script writing that accompanies the floral designs is fun and relaxing to execute. It is accomplished with a pointed nib in an oblique pen holder designed after the old quill pen. For O satisfy me, I used brown walnut ink that I created myself. (See the images after the recipe!
When I used to attend the Penmen conventions, older penmen who had mastered the art thought my ink was the best. Homemade walnut ink has a quality that flows through the nib easily, creating the sought-after thins and thicks of the script alphabets!
This fine art of script writing flourished in the late 1800s and early 1900s during the Golden Age of Ornamental Penmanship when master itinerant penmen competitively promoted and propagated their particular styles among school students and in business. Today, script writing and good penmanship are almost lost skills, but anyone can learn!
Gone Nuts, Beth Ann's Walnut Ink Recipe
Collect two pails of rotting, November walnut hulls.

Fill soup kettles ¾ full with hulls, cover with water, and bring to a boil; Boil the hulls the entire day, occasionally mashing the mixture with a heavy potato masher.

At the end of the day, spoon out hard walnuts and outer hull casing.

Filter the liquid through a series of large, then finer sieves: a large net strainer, colander, hosiery, coffee filters.

Boil the liquid down for two days, stirring occasionally to keep the hardened juice off the sides of the kettle.

Spread the liquid onto baking parchment in pans and cover lightly to protect from dust.

Allow the liquid to dry completely, breaking it up into crystals every several days to speed the drying process.

When the ink is completely dry, store the crystals in a jar.

To reconstitute, add distilled water, (a few crystals go a long way).

This ink stains, so wipe up spills immediately.

Never a finer ink will you find to achieve the perfect flow through your pointed pen, a rich, black-brown ink with exquisite, varying tones! Enjoy the beautiful gradations of earth tones that flow from your nib!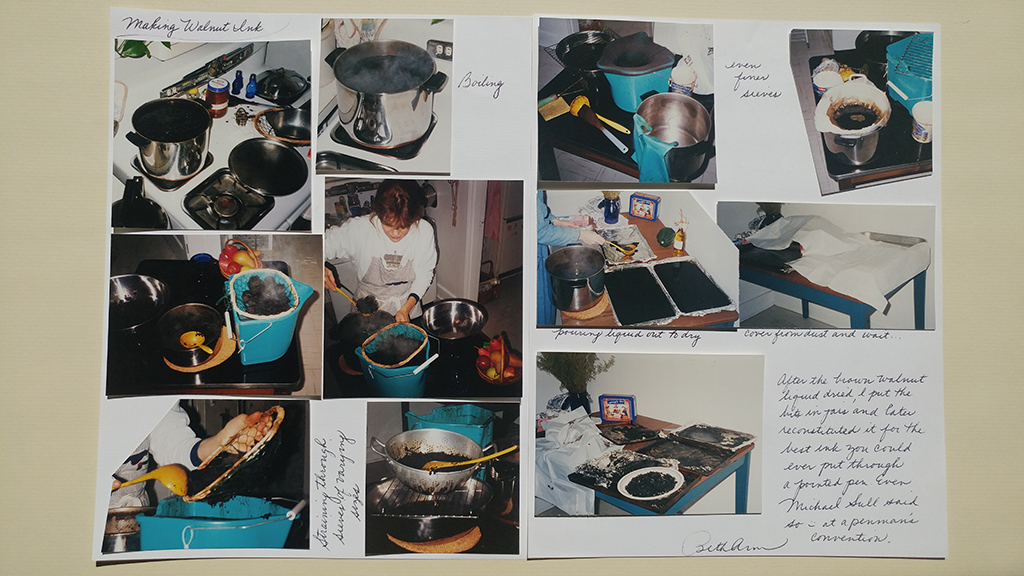 Our mission at Flower Girl Greetings is to magnify the beauty of God's Word and make it easy for you to share powerful encouragement in a tangible and lasting way!
Springs of joy!
7-11-18
Celebrate a new birth!
Springs of joy is from the Joy Collection. To see the card in its Collection, please click here.
Whether you are celebrating a new birth, a baptism or a life lived in God, Psalm 87 is a beautiful gem of rejoicing!  It reflects with nuances of the joy of the Lord Most High, His city, His kingdom and His people.
This Psalm of the sons of Korah sings of Adonai's love for His people and the place of their birth. Verses 5-7 read:
Of Zion it shall be said,
"This one and that one were born in her,"
And the Lord Most High Himself will establish her.
He shall count and say, "This person and that person were born there." Selah.
And the singers and musicians (dancers) shall sing:
All my springs of joy are in thee!
All my springs of joy are in thee.
We don't know if this verse refers to our joy being found in the Lord or His joy being found in us, but it doesn't matter, because, when we are born anew in Him, all His joy and all our joy are found in this union with Him that takes place at our new birth.  Our Lord sings for joy over us, and our deepest joy is found in Him when we are born into His family!
2 Chronicles 16:9 says, "The eyes of the Lord move throughout the earth to strengthen those whose hearts are wholly His."  This verse tells us that the Lord knows those who are His.  When you imagine the earth, the globe that is covered with people of every race and tongue, God sees those who are His beloved. There is only one mark that shines up from the earth – the new birth… not family origin, political party, church denomination or attendance, good deeds – not any other mark but the new birth.  As His spiritual eyes move upon the earth, the light of a life born again into His Spirit shines up through desert plains of Africa, the crowded cities in China, crude country homes in Russia, gathering places that dot the landscape everywhere, whether in teepees or tents, mansions or mud huts, He sees the mark of His own!
Jesus cut past all Nicodemus' questions and went straight to the only truth that mattered in that moment by saying, "Unless you are born from above, you cannot see the kingdom of God." (John 3:3)  John 1:12-13 tells us how!  What a great company to be a part of!  Oh, the joy of being His!
If you would like to read the origin of the Springs of joy card, please continue reading below.
Blessings and love,
Beth Ann
The Springs of joy story:
My mother invited me over one day in October 1999 to experiment with Ukrainian Ink Dyes in her back yard. These dyes were colorful, powdered and intense.  We sprinkled them on watercolor paper and used various water sprays to push them across the paper, such as jet streams and soft mists to create special effects. The original artwork for Springs of joy was created on this day!
Other artwork created on this same day were the backgrounds for The trees clap from the Praise Collection and Through the waters from the Presence Collection.
It began to rain that day, and I left two pieces out in the rain that became Springs in the midst from the Joy Collection and Come unto Me from the Abide Collection.  Come unto Me also incorporated a wax resist for the words before the inks were applied and the rain came!
Our mission at Flower Girl Greetings is to magnify the beauty of God's Word and make it easy for you to share powerful encouragement in a tangible and lasting way!