Beloved, you are the one!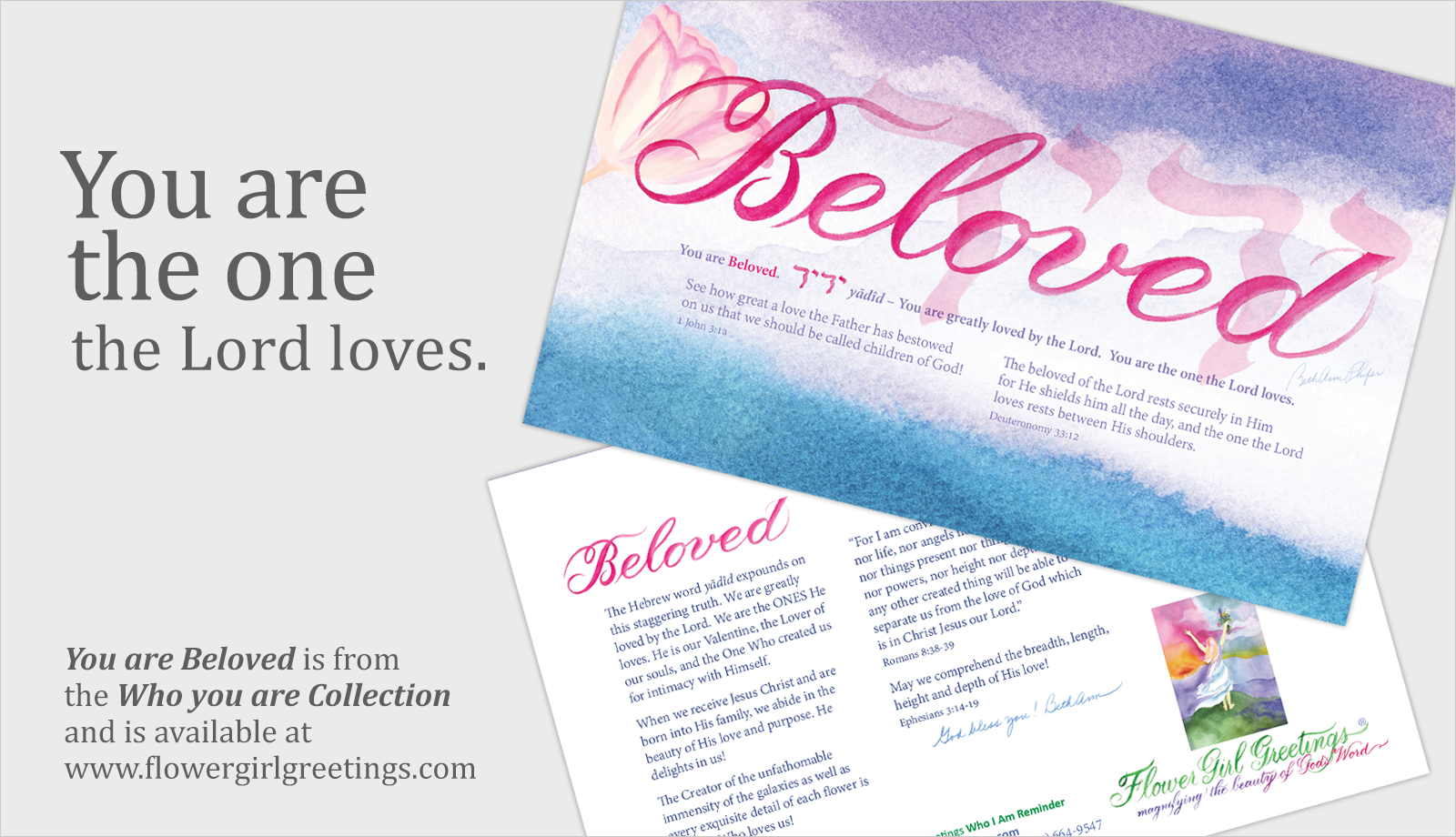 Beloved, you are the one!

Dearly Beloved,
 
You are greatly loved by the Lord.
You are the one He loves!
(This truth is found in the Hebrew word for "beloved" – yādîd. By faith let's think and act on this promise!)
The Who I Am Personal Monthly Journal Card Collection was designed to give as gift to yourself or a friend to encourage reflection on one of the Lord's names for you each month. Each Art Card can be displayed or carried in your Bible and includes:
Memory verses on the front

A Hebrew watercolor word and its meaning

A devotional on the back

Space inside to write personal reflections that you can return to year after year

An Envelope if you decide to give each card to a friend as a monthly reminder or for a birthday
The Who You Are Collection was designed for you to give and send to others for any month. (Only once stamp is required to send each card.)
 
Dearly Beloved of God,
When we receive Jesus Christ, our Father God brings us into an eternal, intimate, covenant relationship with Himself by the Holy Spirit. He gives us names that describe our identity as those who have been born again into His family. These names ground us in an uncertain world. They are not names that describe us after we have our act together, but names that describe us now, because we are His! They remain constant even though the clouds of our feelings, circumstances, weakness, grief, failure, and emotions may hide their reality. We have this hope as an anchor of our souls, a hope both sure and steadfast...(Hebrews 6:19)  Believe what He says about you!
 
Blessings,
Beth Ann

Flower Girl Greetings—magnifying the beauty of God's Word with vibrant Art Cards, Bible study tools, devotional writing and life along the way.

Related Posts
Comments
No comments made yet. Be the first to submit a comment
By accepting you will be accessing a service provided by a third-party external to https://flowergirlgreetings.com/