The Love of Christ
The Love of Christ

Dear Friends,
Send love, care and hope in February with 20%-off on all Art Card 4-packs and Florals 1, Florals 2, and Florals 3 Art Collections from now through February 20th, 2019

The love of Christ Art Card is from the Florals 2 Collection and is also available in a 4-Pack.
To read the text on The Love of Christ card, please continue reading:
Front of Card:
May you comprehend the breadth and the length and height and depth of the love of Christ that you may be filled up to all the fullness of God.
Back of Card:
In about A.D. 61, the apostle Paul wrote these words to the church in Ephesus from a prison cell in Rome. In the preceding chapters he expounds on the amazing mystery of God's grace and the glorious inheritance that is ours as the receivers of His grace.
Paul's spirit soars with this beautiful prayer for those He loves: "For this reason I bow my knees before the Father from whom every family under heaven and earth is named. I pray that He would grant you, according to the riches of His glory, to be strengthened with power by His Spirit in your inner being, so that Christ may dwell in your hearts through faith and that you, being rooted and grounded in love, may be able to comprehend with all the saints what is the breadth and length and height and depth of the love of Christ and to know this love that surpasses knowledge, so that you may be filled up to all the fullness of God.
Now to Him who is able to do exceeding abundantly above all that we ask or think according to His power that works within us, to Him be the glory in the church and in Christ Jesus throughout all generations forever and ever. Amen! Ephesians 3:14-21
For a bit of history, please continue reading…
All Floral designs were created in the 1990s with pressed flowers and a pointed pen (except The Love of Christ Card was painted with watercolor.) Here are the boxes I used to place the pressed flowers in: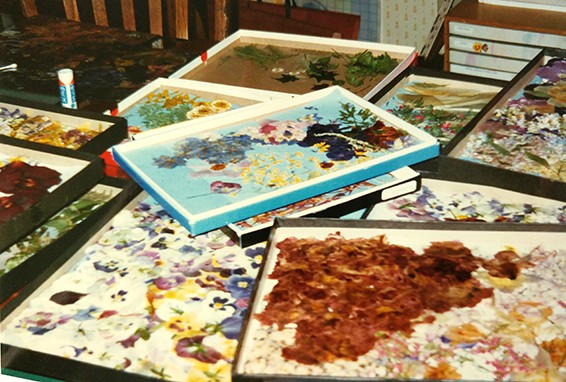 You may laugh when you see this next picture! Yes, pilgrim blouses were all the rage at the time; they totally matched the pointed pens, didn't they?! My art room is soooo less cluttered today!
Pressing flowers was never in my life plan
I got started when Elisabeth, a beautiful German baker, came to my door one fall day with baking pans filled with water and huge pansies of every color. She wanted to save them before the winter set in and thought I could do something with them. I placed the pansies in phone books and forgot about them. A few months later, I opened the books and was blown away by their beauty! I began to use them in designs! Then, in 2012, I used these designs for the Florals Collections. They have become a customer favorite!
God bless you!
Beth Ann
Our mission at Flower Girl Greetings is to magnify the beauty of God's Word and make it easy for you to share powerful encouragement in a tangible and lasting way with art cards and Bible study tools!

Comments
No comments made yet. Be the first to submit a comment
By accepting you will be accessing a service provided by a third-party external to https://flowergirlgreetings.com/